Rabbit-Proofed Rattlesnake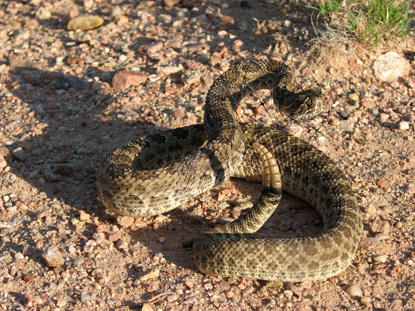 09/05/2006 @ 6:03:16 PM MDT
Tom Wyant of the Wildlife Center snake rescue program had me go out to the Santa Fe Animal Shelter to meet with an animal control officer who had a small prairie rattlesnake
(Crotalus viridis)
she retrieved from some rabbit-proof nylon netting around somebody's garden. They had cut most of the netting away, but there was still some stuck in its mouth and around its head that she wasn't prepared to deal with. You can see where the netting has damaged the snake's skin just to the left of its rattle's shadow. C.J. Carmen, another leader of the snake program, thinks those marks will be gone after a few good sheddings.
09/05/2006 @ 6:04:42 PM MDT
I used a pair of hair scissors and some tweezers to remove the rest of the netting. Tomorrow I'll release the snake in the same general area it was found, but hopefully far enough away from any more rabbit-proof netting.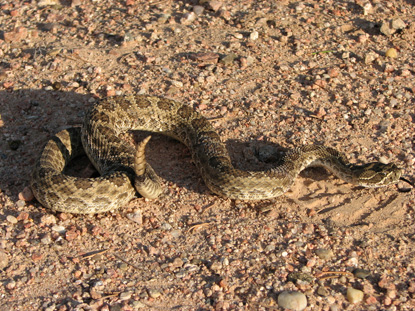 09/05/2006 @ 6:09:32 PM MDT
"Get me out of here!"