Treasures of the Gila River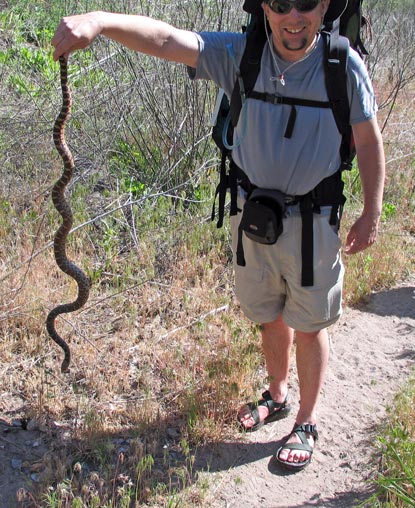 05/20/2005 @ 09:28:12 AM MDT
In May 2005 I took my younger brother up the west fork of the Gila River into the Gila Wilderness. Right away we came upon this decent-sized
gopher snake
(Pituophis melanoleucus)
.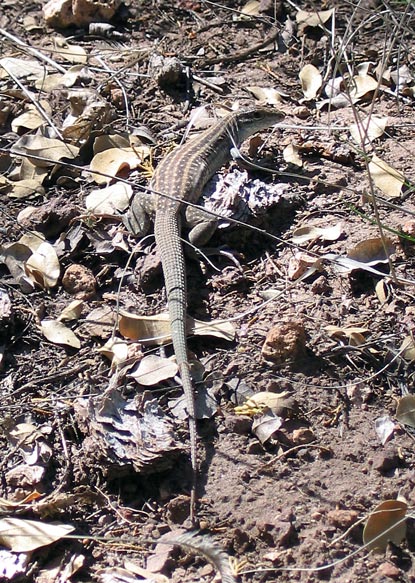 05/20/2005 @ 09:59:49 AM MDT
Next up was this
Gila spotted whiptail
(Cnemidophorus flagellicaudus)
. It looked to be close to 9 inches long including the tail, and it was definitely a female. This species has done away with males altogether and reproduces
parthenogenically
.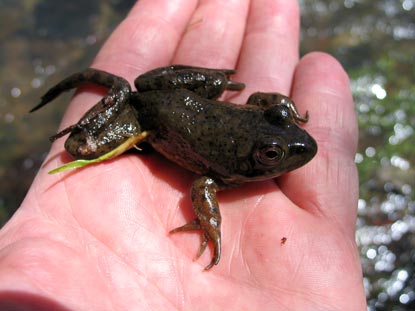 05/20/2005 @ 11:13:00 AM MDT
The river is infested with
bullfrogs
(Rana catesbeiana)
. Not good news for the native species.
05/20/2005 @ 01:44:59 PM MDT
We were sitting on a rock bar in the middle of the river eating lunch when this monster gopher snake pulled up right next to us.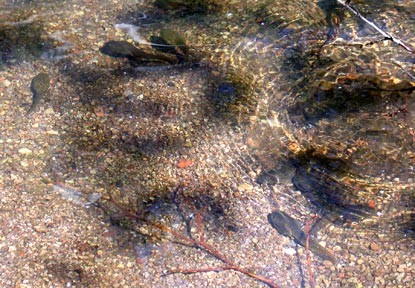 05/20/2005 @ 03:48:04 PM MDT
Huge bullfrog tadpoles in a side pool off the river.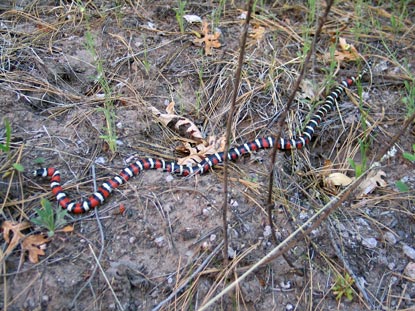 05/20/2005 @ 06:02:59 PM MDT
You are looking at the culmination of my life as a herper. Ever since I saw a picture in my first field guide when I was 8-years-old, I've wanted to find a mountain kingsnake. This particular beauty is a
Sonoran mountain kingsnake
(Lampropeltis pyromelana)
. For me this is the holy grail of North American reptiles. I found the snake just like this, right next to the trail and bright as can be. I was over the moon and practically in tears. They really don't get much more beautiful than this. Definitely the highlight of my herping career.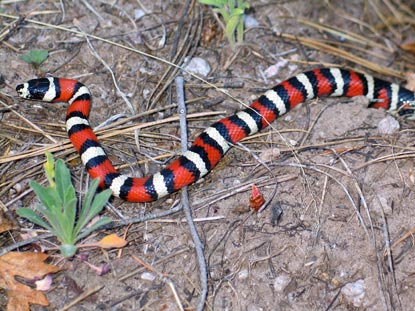 05/20/2005 @ 06:03:14 PM MDT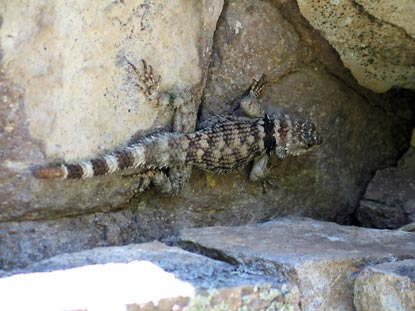 05/21/2005 @ 11:51:35 AM MDT
This large
crevice spiny lizard
(Sceloporus poinsetti)
let me get pretty darn close, but not close enough to catch.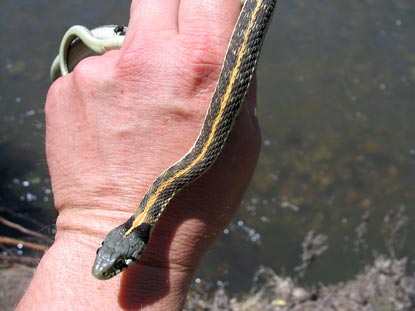 05/21/2005 @ 01:09:28 PM MDT
A blackneck garter snake
(Thamnophis cyrtopsis)
. They are associated with water like the
terrestrial garter snake
.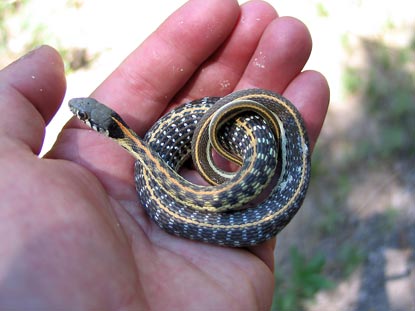 05/22/2005 @ 10:54:45 AM MDT
Another blackneck garter snake fresh from a feeding.