Summer Newtgration & In The Spotlight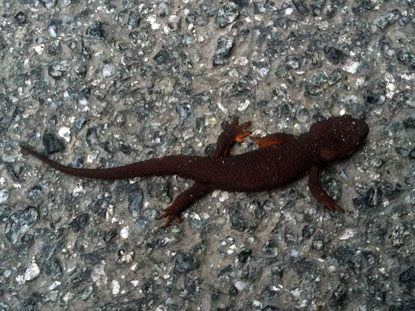 06/26/2010 @ 4:24:21 PM PDT
As I was road cycling up the incredibly beautiful Tunitas Creek Road in the Santa Cruz mountains between Half Moon Bay and La Honda in San Mateo County, I encountered this
Rough-skinned newt
(Taricha granulosai).
These things are seriously poisonous, but you have to eat one to be killed by one. Otherwise, they are completely harmless to handle, which is what I did, moving this one to the other side of the road in an assist on its migration from its breeding grounds in the pools of the creek to its summer home in the logs and leaf litter of the redwood forest floor.
Also, check out
this interview
I did with the kind folks at
reptileforums.co.uk
. It was a lot of fun to tell a few stories and relate the joy I find in herping.