Recent Rescues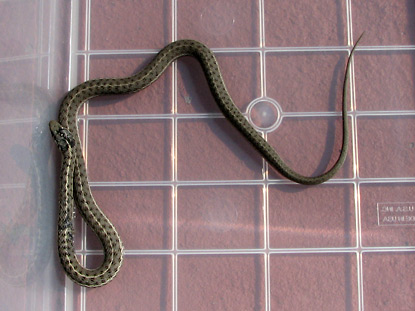 07/27/2007 @ 10:05:08 AM MDT
Today I caught a terrestrial garter snake
(Thamnophis elegans)
that had eluded two other rescuers, as well as myself yesterday morning. I hate that "almost got it" feeling after missing a good capture. The snake had taken up residence in a Santa Fe resident's koi pond. It came out to sun itself on the same spot every morning it was sunny. I had to belly crawl up to it and reach over a depression in the rock wall along the pond. The resident was quite pleased I was able to get the little bugger, which I released downstream of the sewage treatment plant along the Santa Fe river. Note the wound near the snake's neck, which could have been caused by a cat, raptor or perhaps a close call with an automobile.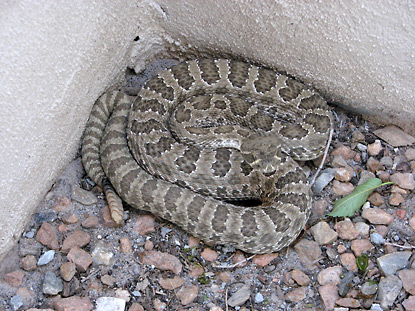 07/16/2007 @ 9:57:40 AM MDT
Last week, rescue volunteer Christian called me to accompany him on a rattlesnake rescue. The snake was conveniently waiting for us at a home south of the Eldorado residential development southeast of Santa Fe.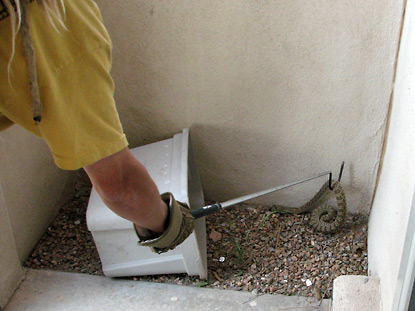 07/16/2007 @ 9:59:33 AM MDT
Christian moved the decent-sized prairie rattlesnake
(Crotalus viridis)
into his box and we released it in a sparsely populated area between Galisteo and Cerritos, NM, under a scrub oak bush.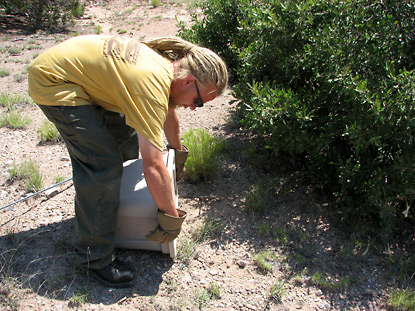 07/16/2007 @ 10:56:57 AM MDT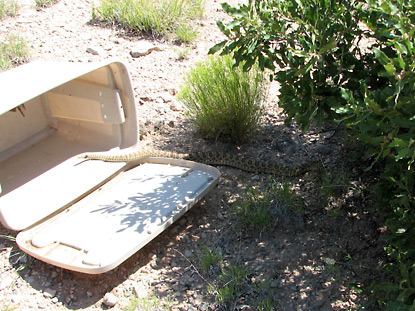 07/16/2007 @ 10:57:13 AM MDT